Home page
Wearing masks is preferred when entering & leaving the hall

To bring something warm since, as long as possible, we will keep doors open for added ventilation

Prices remain the same: £25 for annual membership for the Wednesday films (reduced to £12.50 for members of the 2019-20 season which was cut short), £5 for guests & also for all Saturday 'Winter Warmers'

Please bring the exact money or a cheque for payment

We have altered the seating to improve social distancing but cannot guarantee 2 metre distancing for all those attending



Don Hoyle (on behalf of the Committee)
Films are shown at North Curry Village Hall, Greenway on the fourth Wednesday of the month. Plus a winter warmer run on some Saturdays.
Doors open 7.00pm, film starts 7.30pm prompt.

All welcome, either by means of an annual membership or by paying at the door after 7.15pm (see How to join).
There is a licensed bar.
We show children's films occasionally. Here the Hardwick children are getting ready to enjoy Paddington 2.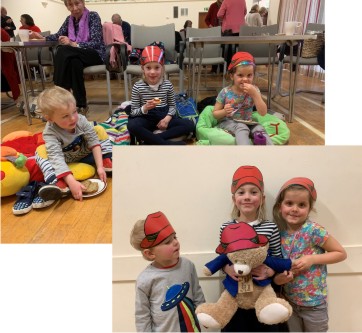 We are an Associate member of the British Federation of Film Societies.

In addition to wine and soft drinks we sell local apple juice from Transition Athelney on film nights in the village hall.